A Radical Political Party Unleashed Violence in Pakistan. These Women Stood Up To Them.
Members of the far-right political party Tehreek-e-Labbaik Pakistan (TLP) held several cities hostage since they launched violent protests across Pakistan on Monday night, April 12. The TLP, known for fanning blasphemy-related outrage, is a relatively new registered political party and contests elections. 
Two cops were killed and more than 300 law enforcement personnel were injured before the government started arresting members of the group. As of April 15, 1,400 members of the TLP have been arrested and the government has started the process of banning TLP through anti-terrorism laws.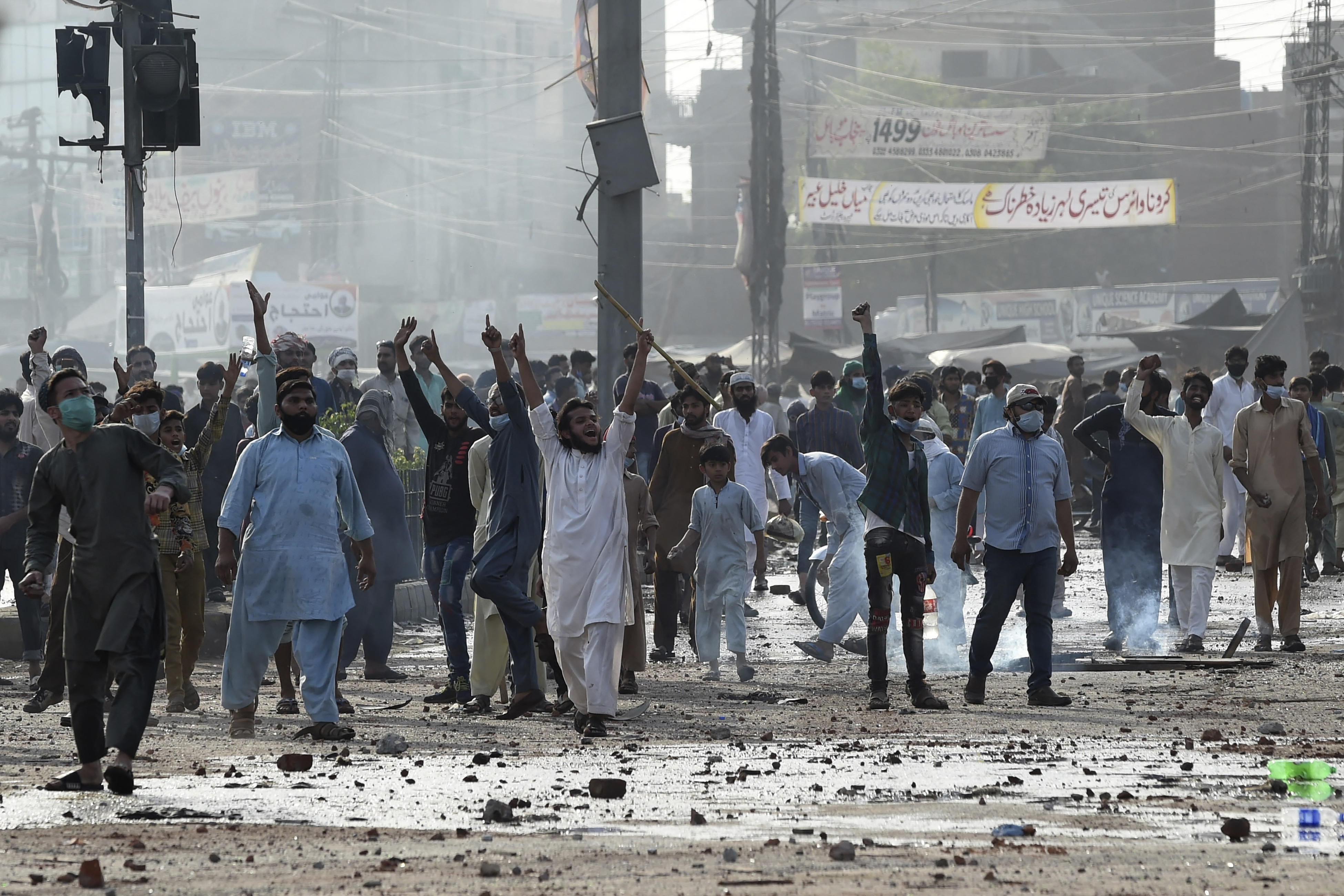 Before the government started cracking down on the party, two videos of women confronting protesters went viral in Pakistan. 
In one video, a female dentist named Bareera Bukhari, is seen shouting at protesters who had blocked a main road in Pakistan's capital, Islamabad. According to Bukhari, she was trying to clear the path for an ambulance carrying, "critical patients". 
"Let's talk on the side," a man said in a video that Bukhari was recording on April 14. "My shoe will talk to you on the side," Bukhari snapped back. "This man has been threatening me. Sir, please tell me your name?" As startled men grappled with a response, they started clearing the path for the ambulance and Bukhari to pass. 
"The next time you try to block my way home to my sick mother, I'll kick your asses over a thousand times again," Bukhari wrote in a Facebook post. "You claim to fight for the Prophet Muhammad (PBUH), hypocrites? He would be ashamed of you, leaving people to die in ambulances, on the street."
The TLP protests erupted following the arrest of their 26-year-old leader Saad Hussain Rizvi. He was arrested by the police as a "preemptive measure" after he threatened protests if the government did not expel the French ambassador to Pakistan from the country. 
TLP party workers started blocking rail tracks, highways and entry and exit points to all major cities on April 12.
As violence escalated—evidenced by the flood of visuals from the ground—the Pakistani government, which had not reacted to the violence since it broke, announced on April 14 that it will ban the outfit. 
"The federal government has decided to ban Tehreek-e-Libek under the Anti-Terrorism Act," Pakistan's Interior Minister Sheikh Rashid Ahmed announced on Twitter.
Before the ban announcement, another video emerged of an unidentified woman confronting TLP workers who had blocked the road to her home in Lahore.
"Aap sab bhaar main gaye (you all go to hell)," she told a group of men holding sticks. She continues in Urdu saying, "People who block the road for regular people in the name of religion will go to hell." Then she is seen moving to her car telling her male companion to drive through the barricade even if they break their windows: "Do it, or let me drive."


Women taking the onus of confronting the TLP workers is being lauded for exceptional bravery.
"These women are telling us how to fight this shameless anarchy," said one comment, while another said, "This woman has more courage than our government who couldn't control these so-called saviors of Islam." 
"Overwhelmed by all the love and support I'm getting for simply clearing a route for an ambulance," stated a Facebook post by Bukhari, who did not respond to an interview request. 
The two viral videos show how citizens were forced to take control, while police officers were tweeting their frustration at having to bear the brunt of the violence.
Pakistani media also reported that TLP workers used guns, and assaulted and kidnapped the cops. Local news outlets reported incidents of TLP workers forcing a police officer with a bloodied face to frog-march on the streets. And afterwards, a senior cop uploaded pictures showing he was safe.
The government's slow response to the violence is being criticised by analysts and journalists. "The government waited and waited as the TLP cut off motorways, blocked highways, vandalised public property, smashed cars, thrashed and even killed policemen, and held normalcy hostage for three days; yes, the government waited, and watched, and stayed silent — even the most voluble brigade of spokespersons — in face of this anarchy," wrote journalist Fahd Husain in an article in Pakistani publication, Dawn on April 15. 
"TLP protesters attacked General Hospital in Lahore. Police had to run inside the hospital to protect themselves," tweeted senior Pakistani journalist Zebunnisa Burki. "Meanwhile, the prime minister seems to have forgotten he's supposed to be actually dealing with this stuff. And protecting the police force which is literally being lynched."
The TLP had famously denounced French President Emmanuel Macron last year after the French leader defended caricatures of Prophet Muhammad. Depiction of Prophet Muhammad is blasphemous in Pakistan—a crime that is punishable by death once convicted. The TLP has been using blasphemy as a rallying point. Studies show that many blasphemy allegations are a result of a personal feud or grudge. Mere accusations can endanger a person's life. TLP's Rizvi's supporters previously held violent protests so that the government does not repeal the country's controversial blasphemy laws. 
Last year, the group ended the anti-France protest after the government signed a deal agreeing to support a boycott of French products. The government had also agreed to make a parliamentary move to expel the French ambassador—the deadline of which is April 20. Interior Minister Sheikh Rashid told Reuters that such a move will not happen. "You can't force the state to do your bidding," he said. 
The police are now resorting to teargas shelling, firing rubber bullets and baton charges to crush the protests. 
On April 15, the French embassy in Pakistan advised its citizens to leave Pakistan as the protests grew more violent. 
Follow Pallavi Pundir on Twitter.